The Cloud Broker requires a Cloud Provider Plugin installed and enabled in order to be able to deploy workloads to the Cloud Provider network.
Installed plugins are disabled by default.  The following procedure will guide you to enabling a plugin.
To enable a plugin, complete the following.
Log in to the Cloud Broker.
Navigate to the Admin menu, then Plugins
In the Plugins list, locate the plugin tile to be enabled.
Click on the symbol to flip the tile.
On the tile, click ENABLE 
Once enabled, the tile will flip back to the default view.  The example screen below shows the Amazon Web Services plugin has been enabled but not yet configured.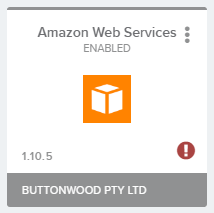 What's Next?
More
Why Buttonwood, Advantages of Buttonwood
Log a support ticket or ask the Community